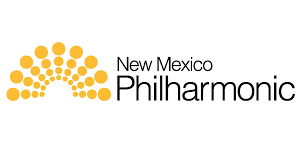 The New Mexico Philharmonic (NMPhil) is the state's largest professional classical symphony orchestra, and second only to the largest year round performing arts organization in New Mexico. It is composed of 74 professional musicians plus its staff, board and volunteers.
It was incorporated in New Mexico by musicians of the New Mexico Symphony Orchestra (NMSO) as a non-profit organization on October 21, 2009 when the possible closing of the financially troubled NMSO was recognized. NMSO had functioned successfully from its founding in 1932 until economic challenges came to a head in 2011 following the 2008 recession. NMPhil was dormant as an organization until May of 2011 after the NMSO declared bankruptcy.
Following the bankruptcy, community members not affiliated with NMSO joined NMPhil's Board and began fund raising. By fall 2011, NMPhil successfully raised over $100,000 to purchase the key assets of the NMSO to begin operations, hired an executive director, retained and granted tenure to most NMSO musicians and began performing its first season. NMPhil has grown successfully each year and begins its 12th season in September 2022.
NMPhil is the flagship classical music organization in New Mexico, performing for 40,000 audience members and serving 20,000+ students each season and is a vital part of New Mexico's cultural scene. It is also an important economic driver as a key cultural asset that helps to create the community's quality of life. NMPhil musicians are also employed by virtually all professional music organizations in New Mexico, further enhancing the quality of life in the state.